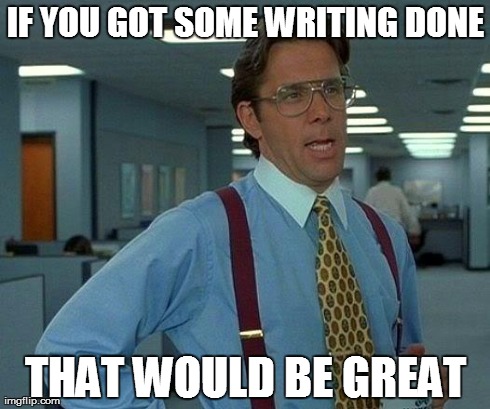 Do you have a paper due soon? Articles and short stories to submit? Blog posts to schedule? Novels to finish? Is the last thing you want to do right now is write? Yeah, me too. Have no fear! Here are some great ways to avoid writing.
Research: Having all the right information is important. After you find that factoid you were searching for, make good use of the time. I mean, you're already on the internet so you might as well check your email, Facebook, Twitter, Instagram, YouTube, Reddit, MySpace, Webkinz World, Buzzfeed and all your favorite porn sites. You know, just to get it out of the way.
Eat: Holy crap, that research took forever. But now that you've got it done you can finally get back to writing. Nope. You need a snack. Even if you aren't hungry, you shouldn't write on an empty stomach.
Take a nap: After you've eaten twice your body weight in snacks, you're probably going to be tired. Sleep it off and wake up refreshed and ready to write.
Blame writer's block: You've researched, eaten and napped and you're ready to write ALL the words in the world. Until you get in front of your keyboard. Your mind is blank. The words don't flow. Whatever you put down sounds like garbage. It's got to be writer's block. No can blame you or hold you accountable for that, right?
Look for inspiration: It's been a couple of days and you still have writer's block. If inspiration won't come to you, you go out there and look for it!
Talk about writing: Chat up some of your writer friends or go to your favorite writing forum and see if they can help inspire you. How do they get over writers block?  What are they working on? Sometimes this will go into deeper conversations about style, theme, other writers, technique, and grammar. At times you may want to pull out your cob pipe and smoke tobacco.
Think about writing: Think about what you should be writing. Think about what you researched and talked about and how you're going to apply it to your work. Just don't open the document or you may actually get some writing done.
Hang out with friends: Being around people can be inspiring so go hang out with your friends. When you get back, don't bother writing. It will kill your vibe.
Call or text someone who never shuts up: We all have that friend or family member that has a life filled with drama and never shuts the fuck up. Now's the time to give them a call and use them for inspiration. By the time you get done listening to them, you'll need a drink. No writing for you.
There you have it, procrastinators. I hope this was a helpful guide to help you become an even bigger slacker. Now if you'll excuse me, I have some uh, research to do. 😉